Star Arts
Star Arts
Suzanne Gayle Biography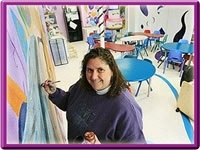 I grew up in Memphis Tennessee, and graduated from Memphis University, moving to the Bay Area in 1987. I live near CSU East Bay in Hayward with my husband Steve, my two daughters, Violet and Tanzenite, and several cats and dogs rescued from animal shelters.
I am a muralist and my work can be seen through out the Bay Area. On all my projects, I interview site users on best use of the site and research the location history as I prepare drafts of the artwork. I coordinate with any collaborative artists on colors, textures and angles so our results will be harmonious and accentuate each other's artwork.
My art is designed to use all available space to draw the viewer in for a closer look. My latest project was a panoramic mural at an urban school in collaboration with a mosaic artist to beautify the school. Together we transformed drab faded brick and concrete with wilderness landscape murals and mosaic-inlaid planters to create peaceful harmonious spaces.
One of my largest murals to date depicts the character of Hayward while providing many educational and historical facts about the city using architecture from around the city to illustrate buildings and activities reminiscent of the city allowing the viewer to step into the story being told.
I own Star Arts LLC, my commercial mural and art studio and Purple Dolphin Arts, my studio for original graphics arts. In my art Studio I also mentor students from Impact Academy of Arts & Technology on a yearly basis. In addition to having a working studio I have created a classroom for teaching. I have used this space to teach youth, young adults and teachers. I have created a seminar to help the non-art teacher understand ways they can incorporate art into their daily curriculum. I operate in Hayward California with offices in Union City and Castro Valley. My murals can be seen in businesses and homes through out the bay area. Many of my large-scale works are located through out the City of Hayward and have been commissioned by both the City of Hayward and Hayward Unified School District.
Living in the community means more than just working; you must give back to your community. I am active in children's art ventures, volunteer committees and Art associations. I contract as an after-school art instructor at Golden Oaks Montessori, and have served as art instructor at Stonebrae Elementary. In addition to teaching art at Stonebrae Elementary, I designed and donated the first school mural. Serving on the PTA board, I initiated an ART committee and enrolled the school to participate in the National PTA Reflections Art Program. For the Woodland Estates Community Association in Hayward, I have been the Newsletter Editor and Co-Chair the social committee in charge of all children's holiday events. My original artwork has been exhibited at Cinema Place Gallery, the Hayward Arts Council and Castro Valley Adobe Art Gallery.
Involvement with other artists in my family and with friends inspired me to get into the arts early. After graduating with a B.A. from Memphis University, I operated a crafts business for fashion art pieces, in addition to working fulltime in interior design and decorating. I returned to college to re-invent my artwork styles by studying graphics arts and computer graphics and web-design at Foothill College in 1998-2000. I have since created several mix-media pieces including an award-winning anti-smoking art video piece. I started an artist's showcase website for Purple Dolphin Arts, and formed my own professional studio, Star Arts LLC.
My graphics work has most recently been highlighted in the theme design for the Hayward Volunteer Dinner invitation, program and supporting materials. I am in the process of redefining the look for Eden Youth and Family Services. This includes the logos for each division within the organization. These materials will be included on all promotional materials, their new website and event activities. As a recent appointee to the "Hayward Keep it Clean and Green Committee", I am working with the subcommittee to educate students in local schools about creative ways to re-use materials. My focus is to guide them to look at used materials not as trash, but as an asset of many usable attributes and then find ways to re-purpose the materials.
My art takes many forms – from abstract to commercial, from intense to light and whimsical.
A few examples are: trompe d'oeil, layering of original digital images and paints, altering of lighting, stand-up cut-outs for people to insert themselves in the scene, making use of traditional techniques as well as modern advances in technical imaging, rounding or merging of perspective, enhancements to the art boundaries as well as the art with mixed media. In addition to my large-scale murals I also create small-scale artworks such as original paintings, digital artworks and 3-D mixed-media sculptures.
I manage all the above activities through my administration at Star Arts LLC. Activities and volunteering is spurred by my passion to advance the arts and expressiveness of others.